Raw Food Recipes

Raw Vegan Brownies

Base:
1 c walnuts
1 c dates
1/4 c cocoa pwder (use raw cacao if you can get it)

Topping:
2 avocados
1/2 c agave nectar (or manuka honey)
1/4 c cocoa pwder (or raw cacao)
2 T coconut oil
1 T vanilla extract
dash salt
dash cinnamon

Directions:

Food process the brownie ingredients until blended and dry chunky. press into a small non stick pan. This can take up to five minutes - you want to get it to the stage where it starts to ball up and will stick together when you squeeze between your fingers.
Put all topping ingredients into processor, and blend on hi till smooth. Spread over brownies and pop in freezer to set for 1-3 hours then cut and put in snack sized ziplock bags or in a airtight container. You need to keep frozen till just before serving, as the topping softens quickly. Topping can also be used on its own as a chocolate mousse.

Number of Servings: 12
Fresh Plum Shortcake
Base:
2 cups sultanas or raisins, soaked for at least 2 hours if possible
1.5 cups raw almonds
1 cup flaked or dessicated dried coconut
Drain the fruit and add all ingredients to food processor. Process until the mix is fairly smooth and the visible nuts are quite small. Press into a round springform cake tin and place in refrigerator.
Topping:
Enough Plums to cover the surface, sliced - i used about 8 medium sized dark skinned plums. Slice. Arrange on top of cake base in any pattern that makes you smile ... i worked from the outside in rows and it looked great! Press the slices gently into the base. Drizzle the top with a tablespoon or two of your favourite sweetener - either liquid manuka honey; agave syrup or yacon syrup (I used a yacon syrup that has lemon juice in it - gives a nice sweet but tangy taste ... from www.gazmik.co.nz).
Place back in the fridge for another hour or so to firm up the base, then serve and enjoy every mouthful!! This makes 8 generous servings or a nice morsel for 16 :)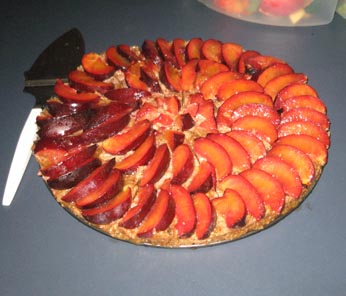 Frozen Banana Bon Bons

This is more of a quick and easy tip than a recipe... No equipment needed but a bowl, whisk, and knife. Great way to get rid of a couple of over ripe bananas.

Ingredients:

Ripe Banana
Coconut Butter
Coconut Oil
Raw honey or Agave
Raw Carob Powder
Cinnamon
Sea Salt
Shredded coconut or chopped nuts
Preparation:

Measurements are not necessary, that would be more things to wash. Start with Butter and Oil and add honey, carob powder, cinnamon, and salt to taste. Whisk into a yummy carob sauce.

Cut banana into slices. Using a fork, dip each banana slice into the carob sauce then coat in coconut or chopped nuts. Lay out onto a tray and freeze.

Chocolate Fudge Balls

These are great to put out on Xmas day or to make and put in decorative boxes for gifts!

1 cup dates, soaked for 2 minutes in warm water
1/2 cup pine nuts or cashews
1/2 cup sunflower seeds
1 tablespoon coconut oil, melted
3 tablespoons cacao powder
pinch sea salt
2 teaspoons agave

Grind up nuts and seeds in the grinder, transfer to the processor. Add the cacao powder, salt, agave and melted coconut oil. Turn the processor on and drop the dates into the mix until the mixture starts to become tacky. Take small amounts of the mixture and roll into little balls.
Store in the freezer or fridge.

Pecan Pie - Alissa Cohen

Crust:
2 cups pecans
1/2 cup dates, pitted and soaked
1/4 teaspoon cinnamon
1/8 teaspoon vanilla

Filling:
1 1/2 cups dates, pitted and soaked
1/2 cup pecans
1/3 cup honey*
1/4 teaspoon cinnamon
1/2 macadamia nuts
1/2 cup water

Topping:
1 cup pecans

-----------

For Crust:
1. Blend pecans in a food processor until fine.
2.. Add remaining ingredients and blend until smooth.
3. Remove from processor and pat down into a pie plate.

For Filling:
1. Place pecans in a food processor and blend until smooth.
2. Add in the remaining ingredients and blend until creamy..
3. Pour filling into pie crust.
* We used agave nectar instead

Topping:
1. Place pecans decoratively on top of filling.


Other dessert ideas


Fruit kebabs with chocolate dipping sauce or pineapple dip/sauce

strawberry, peach, apricot, pineapple, plum – whatever fruits are ripe and delicious.

melon ones = watermelon, rockmelon, honeydew melon

Make a sauce of blended fresh pineapple and/or mango, coconut (soaked), lemon juice, orange juice - soaked dates as a sweetener?
Add chia seeds to thicken sets (good for brunch, or for an appetiser - eat before the meal and give 20 minutes for it to go down).


Almond and Kale Sushi

All dark leafy greens are good source of minerals, however kale is particularly high in iron. It also has plenty of vitamin C which is essential for iron absorption. Kale has all the great qualities attributed to broccoli – but it is more insect-resistant and much easier to grow.

1 cup almonds, soaked in water overnight then drained
3 leaves curly kale, stems removed
4 cloves garlic, chopped
3 dried apricots, soaked
1 knob ginger, sliced
1 T miso
1 T tahini
3 nori sheets

Put all the ingredients, except the soaked almonds, into a food processor and blend well.
Add the almonds. Blend again, but leave the almonds slightly chunky.

How to Roll:

Place one nori sheet onto a sushi mat. Spread 1/3 of the mixture evenly onto a sheet, leaving about a 3 cm gap at the top of the sheet.

Roll up the sheet carefully from the bottom, keeping it firm as you go. Move the top edge of the sushi mat out of the way as you form the roll.

Leave the roll face down on the loose edge – it will stick by itself in a few minutes.

Roll the other two rolls. If you wish, warm these in dehydrator or a low oven. Slice each roll into 8 or 10 pieces with a sharp knife. Serve as they are, or with a sauce.


Parsnip and Brazil nut sushi
Makes 40 - 50 pieces

These nori rolls are so quick to make and a stunning starter for a dinner party. I've had many people eat them without even noticing that they're not made with rice! Soaking the Brazil nuts overnight makes them more digestible; however you can also use them raw if necessary.

Sushi Mixture

1/2 cup Brazil nuts - soaked overnight, drained, rinsed and chopped
3 cups parsnip (400g), peeled and chopped
Juice of one lemon
2 Tbs cider vinegar
1½ Tbs raw honey
¼ tsp sea salt
1 tsp ground black pepper

Put "Sushi Mixture" ingredients in a food processor. Pulse briefly until the parsnip and nuts are in suitable little rice-like chunks. Take care not to make the mixture too fine.

To make nori rolls:

5 sheets of nori seaweed
Filling ingredients such as sliced avocado, red capsicum, carrot, snow pea sprouts

Use a bamboo sushi mat to make your rolls. Place a nori sheet on the mat and spread evenly a bit less than 1 cup of the sushi mixture, leaving about 3cm gap at the top of the sheet and about 1cm at the edge nearest you. About 1/3 of the way up the sheet make a line of your fillings across the sushi mix.

Roll carefully from the edge near you. Pull the bamboo mat out of the way as you go, keeping the roll as firm as possible.

Leave the roll face down on the loose edge for a few minutes - it will stick by itself this way.

Slice each roll into about 10 pieces and serve with shoyu (good quality soy sauce).


Kimchi-Style Salad
Serves 6

Traditional Korean Kimchi is a very spicy condiment made from Chinese cabbage. Here's a light, clean-tasting salad based on similar ingredients. It's easy to prepare and perfect for a picnic. Salting the vegetables not only helps with digestion - the salad keeps well when not refrigerated.

1 small Chinese cabbage (or other type of cabbage), finely sliced
½ cucumber, finely sliced
1 tsp sea salt
2 garlic cloves, finely chopped
2 cm piece of fresh ginger, minced or grated
1 fresh red chilli, finely chopped
1 red capsicum, sliced
1 carrot, finely sliced or grated
2 Tbs cider vinegar

1) Place Chinese cabbage and cucumber in a bowl. Rub the sea salt into this mixture. Leave for 15 minutes while preparing other ingredients.
2) Drain and lightly squeeze the cabbage and cucumber.
3) Mix in the remaining ingredients.


Mock "Salmon" Pate
Inspired by a recipe from Alyssa Cohen's Living On Live Food

Ingredients:
2 cups walnuts (soaked overnight, rinse and drain)
2 stalks celery
1 large red bell pepper (capsicum)
1 large scallion
½ tsp sea salt
1 sheet of raw nori (black, not green)
2 cucumbers
1 handful fresh dill

Directions:
In a food processor, process dill until finely minced, and set aside for garnish. No need to wash the processor in between steps as any remaining dill will join pate mix.
Roughly chop celery, bell pepper, and scallion. Combine walnuts, celery, bell pepper, scallion, salt and nori and blend in food processor until smooth.

This pate is great on sliced vegetables or crackers. You can also serve it on a bed of greens, with sliced avocado and cucumbers. Treat it like tuna salad and make a sandwich using live bread, lettuce and tomato.

Slice cucumber in rounds and top with pate, garnish with minced dill. Serve fresh or store refrigerated for up to a week.


Live Almond-Tahini Hummus

Ingredients:
2 cups almonds (soak overnight (12 - 24 hours), rinse and drain)
½ cup lemon juice
2 cloves garlic
¼ cup raw sesame tahini
1 tsp sea salt
1 tsp cumin
add Water as needed
Directions:
Combine all ingredients in food processor except for water. Process until well combined. Add a ¼ cup of water at a time until you get the smooth, fluffy consistency of hummus. Serve fresh with your favorite vegetables or crackers.

This easy to make hummus is delicious and nutritious. Made with almonds and organic tahini. Eat with your favorite veggie wedges, or live crackers.


Lasagna Bites

Sweet and tangy tomato sauce, creamy pine nut cheese, all rolled up in a lemon-marinated zucchini noodle. Easy to make, pretty to look at, easy to eat!

Ingredients:

For "Noodles":
7 zucchini
1 cup lemon juice
1 cup olive oil
2 tsp of sea salt
1 tsp pepper
For Tomato Sauce:
1 cup spinach
1 cup sun-dried tomatoes
1 cup pine nuts
10 dried, pitted dates
1 tsp garlic powder
½ tsp chili powder
For Cheese:
1 cup pine nuts (soaked overnight, rinse and drain)
1/3 cup sunflower seeds (soaked overnight, rinse and drain)
½ tbsp oregano (dried)
½ tbsp basil (dried)
2 tbsp lemon juice
4 cloves garlic
1 tbsp olive oil
2 large green onions
1 tbsp nama shoyu

Directions:

For Noodles:
Using a mandolin or sharp knife, slice the zucchini into long strips. In a bowl whisk together olive oil, lemon juice, salt and pepper.
Place zucchini in large flat glass or ceramic dish and pour lemon mixture over. Using your hands mix zucchini with marinade until all slices are coated. Marinate for 3 hours.

For Tomato Sauce:
In a food processor combine all ingredients. Process until smooth.
For Cheese:
In a small food processor, or using a stick blender, process all cheese ingredients until smooth.
To assemble:
Rinse marinated noodles and pat dry with paper towels. Lay out one noodle on cutting board. Spread approximately one teaspoon of tomato sauce, leaving about 2 centimeters at the top of the noodle sauce-free. Repeat with same amount of cheese. Starting from the bottom of the noodle, roll up and place on platter. Repeat until all noodles are finished.